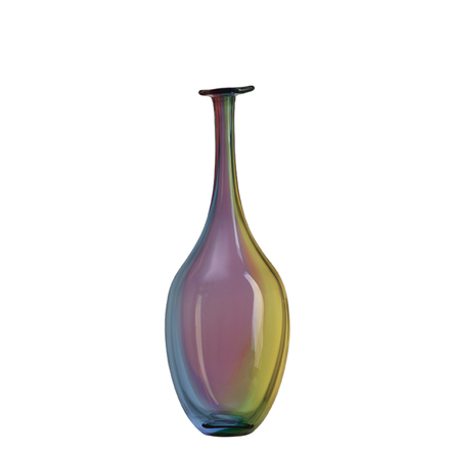 Fidji Bottle
H: 11 3/8" W: 4 3/8"
How does a particular design come about? The inspiration for the Fidji collection originated in the designer's love of music, the long necks of the bottles reminiscent of organ pipes. The colors were inspired by shimmering rainbows of oil spilled on water. by Kjell Engman.
Poppy Pitcher
H: 9 3/4" W: 9 1/2"
"The poppy is associated with Demeter, the Greek goddess of fertility and the harvest. My inspiration comes from the moment the poppy opens up and spreads its seeds across the countryside. The colours symbolize the various play of colours in rain, frost, daylight and sunshine. The incredible shape, with its uneven edges and texture, was a bit of a challenge to create in glass." By Kjell Engman
Connect Candlestick
by Kosta Boda
8 5/8″ H x 11″ W.
Twine Vase
H: 15 3/4" W: 7 1/4"
"I have been inspired by the ability of glass to flow freely and in a playful way, yet it is strict and clean. In Twine I have combined these two qualities into a vase which I think reflects the light in an exciting way so that it can be just as beautiful with or without flowers." Glass is poured by hand over the mouth-blown vases to form an organic pattern.
Sugar Dandy Bowl, Amber
3″ H x 5″ W.
The Sugar Dandy series is complemented this holiday by a bowl that comes in four colors. Just like the other item in the Sugar Dandy series the bowl has the characteristic hallmark of rolling, bubbling and alive, just like Mother Earth.
Anatomic Orchid Vase
H: 20 3/4" W: 6 1/8"
Designed by Ludvig Lofgren. The name "My Wide Life" applies to the fact that Ludvig lives a wide life where he collects his inspiration from...life and everything around him. The jungle has come to Kosta Boda.
Globe Vase
H: 9.44" W: 9.44"
Anna Ehrner is experimental and stylistic in her expression. Her work is characterized by minimalistic yet powerful design language. Colored lines inside the glass are a recurring feature for Anna Ehrner. Globe, this year's new introduction, clearly reflects her artistic persona. The Globe collection is playful, graphical and minimalist, yet alive. Elegant sculptures handmade in Sweden, available as a dish and vase.
Macho Decanter, Green
7 7/8″ H x 4 3/4″ W.
27oz.
The very name suggests that Macho would be an ideal gift for the alpha males in your life. From the lug bolt stopper to the bold strokes of color to the sensual, undulating shapes that complement each other, Macho is a guy thing. Perfect for serving his finest chilled Swedish (hint hint) vodka and aquavit. Give the set of three! They go together, like old pals.
Contrast Bowl
H: 4 7/8" W: 9"
Designed by Anna Ehrner. With hand-applied decoration of swirls of contrasting calligraphic lines, each Contrast piece is a unique work of art which can be used everyday and or highlight the holidays. The pure forms are crystal arenas for the drama of free-flowing patterns that bring out the inner nature of the glass. Pure shape bears up the patterns that bring out the inner nature of the glass, making every piece unique. These dramatic pieces work into any interior design scheme. functionally or purely for display and will be prized as a gift.
Red Rim Vase
H: 9.667" W: 6.667"
"Back to Basics, I wanted to make a classic, decorative but functional product that celebrates the craft and the inherent beauty of the glass." Vallien makes clever use as only he can of the craft traditions of Småland, where he has had his studio for more than 40 years. The edges are softly rounded and finished by a bold red rim of glass. While the body has a dramatic tension of twisted blue colors evolving an otherwise simple form into a work of art.